Imagine a workout that combines stretching, stair climbing, agility, bodyweight exercises, running, core training, medicine balls, dumbbells, and resistance training all in a gorgeous outdoor setting. This is what The Ultimate Workout is all about. The Ultimate Workout is the premier leader in San Diego Bootcamp and Personal Training. Aaron Miter of Maximum Fitness personal training has designed the most complete workout around. The Ultimate Workout is for both men and women of all ages, of all ability levels and is designed to give you the most effective and time efficient workout possible. The Ultimate Workout will help increase flexibility, cardiovascular endurance, speed, agility, and muscular strength all in one workout. Experience the best new workout for free, simply sign-up in the box below. We look forward to seeing you.
THE ULTIMATE WORKOUT INSTRUCTOR
Aaron Miter – Maximum Fitness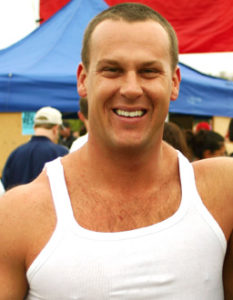 Aaron Miter started working out when he was 12-years old. He began getting up before school 3 days a week with a pair of sand filled dumbbells and the TV program the "20 minute workout". At age 15, he got a job at Baskin Robbins to pay for a gym membership and quickly realized that working out was a very important part of his life. He read every book and magazine article about exercise that he could get his hands on.
During his senior year of high school, with no formal education, he started making exercise programs for family and friends and teaching them everything he knew. Then after his high school graduation he realized that it was now time to make some serious choices of what he wanted to do with his life. Spending so much time at the gym working on his own physique and seeing personal trainers as a profession, it all became very clear. It was at that point that he decided to learn more about the thing he loved so much—exercise.
While going to college to further his knowledge he decided to get certified as a personal trainer. After working in gym membership sales and personal training for a Jack LaLanne health club, he decided that it was best to create his own business and not be tied to any mainstream health clubs. Aaron started his career under the business name of One to One Personal Training. He trained some of his first clients at Bodybuilders Gym in south Mission Hills. As he slowly turned Personal Training in to a part time job he realized that if he was going to make this a "real job" it was going to take more than waiting for clients to come to him.
In 1993, after a few years of part time training, Aaron quickly realized that if he was going to succeed he was going to have to go in search of those that needed his services. In an attempt to gain more exposure and expand his business, Aaron joined Gold's Gym in Pacific Beach where he was able to recruit some more clients in need of training. After a couple more years of personal training under his belt, a friend of a client asked Aaron to come to her home and train her in a gym that was set up in a spare bedroom. Then it became all to clear that the next step to success in the rapidly expanding business of personal training was to go directly to the client.
In 1995, with a renewed vision of what personal training was all about, Aaron decided to change his business name to Maximum Fitness. With a new name and a new direction he began seeking out new clients at many different high-rise condominium complexes downtown and various housing developments throughout the San Diego area by offering free "Getting to Know Your Gym" classes to the residents. He also decided to venture into the Corporate Wellness arena in order to find another market for his services.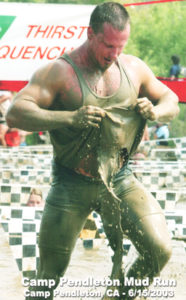 With his business booming in 2003, Aaron needed a new challenge so he decided to compete in Camp Pendleton's Mud Run. After a very exciting race and about 13 years of personal training in the 4 walls of many different public and private gyms he decided to try something new. So with his love of being outdoors and his knowledge of exercise he wanted to create a workout that would help his clients reach a new level of strength and endurance and change the minds of many that a great workout could only be achieved with a gym membership, some machines and a set routine. This is when The Ultimate Workout was born. Aaron then proceeded to designed a workout that would not only prepare him for another Mud Run but challenge his clients and help take them to the next level.
Always looking for the next level for himself, Aaron continued to seek out other opportunities in the fitness industry and chances to give back to the San Diego community that has supported him for so long. After having his first child and settling into being a father, he was offered a chance to help kids learn about exercise and nutrition with Operation Fit Kids.
Aaron has always been in the business of helping others so it came very naturally to him. Since then he has been involved in raising money and awareness for other charities, such as It's All About the Kids, Rob Benzon Foundation, & Mama's Kitchen by donating his time, services and expertise at many fundraising events.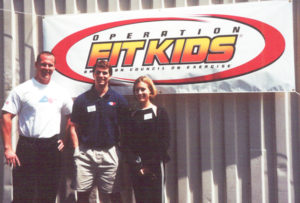 Now, with 25+ years of experience and determination, Aaron Miter of Maximum Fitness has designed the most complete workouts around. In addition to his high energy Bootcamp-style workouts, Aaron continues to train a number of San Diegans on an individual basis in a number of private and public gyms around town. So what are you waiting for? Come experience the workouts that have helped many San Diegans not only achieve their fitness goals but have fun doing it.
Jennifer Kearns
"I first encountered Aaron Miter and The Ultimate Workout when I ran into a friend I'd not seen in a long time and was impressed by how fit he was. He told me he'd been working out with Aaron, and soon thereafter, I joined the boot camp. I was certainly the least conditioned person in the boot camp, and yet there is such a collegial atmosphere that I felt happy to be there and felt supported and encouraged not only by Aaron, but by all the other participants. The actual boot camp workout can be modified for differing fitness levels.
A difficult travel schedule and a couple of surgeries made the boot camp schedule difficult for me to meet, and I began working out with Aaron as a personal trainer. The greatest thing about Aaron is that he will work with you regardless of your fitness level and will motivate you to regain any ground you've lost as well as to strive for new goals. He genuinely gets a kick out of seeing a client begin making real strides, and throughout the process, helps the client recognize that s/he can do it! He's also very knowledgeable about physiology, and is careful when a client has an injury that needs to be worked around. Aaron is the best trainer I've ever worked with, and I recommend him without reservation."
-Jennifer Kearns
Sherry
"Dear Aaron,
Just a short note here to thank you for your help and expert training. I had been suffering with a very bad back, had received 3 epidurals, and had gone through physical therapy and chiropractic treatments. Then, I hired you for a series of sessions after my physical therapy exercises were no longer challenging me. My body needed to get stronger in order for me to truly enjoy life, not just get through it.
Your customized exercises have worked wonders. After your training and my diligently following the program you developed for me, I found myself strong enough and confident enough to try aerobic dance class again. I said, Okay, I'll try it once. If I can't do it, I will just go back to my routine in the gym. It has been two months now, three times a week, that I have been participating in an activity that I love but thought I'd never do again!
Thank you for listening, and being patient and supportive. Your expertise has helped me tremendously.
Warmest regards,"
Robert Houghton M.D.
"Aaron is a great trainer, competent, caring, reliable, friendly and he has a special intuition for his clients to get them on a program that best fits their needs and lifestyle. I am a physician practicing in San Diego with a busy life and at times can't get enough time to train,so Aaron caters to me by creating workouts that cover my needs in the time that I have. I feel fit, more energetic and well supported and cared for by Aaron. I would highly recommend him and without reservation!"
Char Webster
"One thing that I enjoy about working with you is your continued enthusiasm even after a long day. I always feel you are upbeat and there just for me. I also appreciate the thoroughness of your instructions and the lengths you go to ensure they are easily followed. Your knowledge and intelligence is most impressive. I look forward to working with you for a very long time, and I appreciate the lengths you go to help progress my health goals."
Bill Flanigan
"I have to say I interviewed several personal trainers before I decided on Aaron. Even though all were very knowledgeable about techniques, physiology, diet and health issues, for me, motivation was what I was looking for; it's so easy to get lazy and start finding reasons to miss workouts. But it was Aaron's attitude that set him apart from the rest… From the beginning he kept me feeling great about my workouts and my results. We have been working out for many years now and it's because I'm always looking forward to what he's got planned for me next."
Russ & Heidi Hoxie
"Aaron is an excellent trainer. He is not only knowledgeable but also very in tune helping us reach our goals. Aaron is pleasant, caring and focused.  We highly recommend Aaron to be your trainer."
Mike Garcia Realtor
"I have been working out with Aaron Miter as my personal trainer for over 10 years. I've had membership in several gyms and have observed many professional personal trainers over the years and Aaron exemplifies exactly what one should look for when choosing a professional personal trainer.
Aaron has over 20 years experience with clients and his knowledge of training shows as he individually tailors a specific training plan to achieve the ultimate results the client desires. He understands the right combination of strength training, cardio, core training and stretching. Aaron has a huge history of training many different levels of clients.
What you get with Aaron is:
A super nice guy with an awesome personality that makes the training session breeze by with an excellent workout as well as a motivating experience and he helps make it fun! He is very motivating and enthusiastic with every session I have had with him, 3 times a week for over 10 years! His personality is compatible with everyone, yet he knows when to step it up from small talk to a focused and concentrated workout. He is always dependable and often makes every effort to work with each clients time frames when able. Working out with Aaron is a blast, and it's very likely you will become friends with him quickly. I'm 5'8″ with a somewhat small frame, yet over the years I went from about 145lbs to almost 175lbs and much of that was mass from weight and strength training, 2 and 3 times a week. I highly recommend Aaron Miter as a personal trainer and I welcome anyone to contact me with specific questions regarding Aaron."
Jim High
"Aaron Miter changed my life. When I first met Aaron in April of 2008 I was very unhappy with my weight and body. I had worked out with trainers for the past 8 years with mixed results. They certainly got me into the gym, but never really showed me what it meant to be dedicated to a workout plan and eating clean (as Aaron says it). Through Aarons teaching and patience I have lost over 30 lbs of fat and have gained about 15 lbs of muscle. I went from 18% body fat down to 10%.
Aaron also encouraged me to attend his boot camp classes. The idea was very intimidating at first, but through Aarons encouragement I went. These classes really burn off the calories, and allow me to cheat from time to time with my eating and still keep the body fat in check.
Let Aaron help you to change your life!"
James Niebling Esteban Interiors
"I hired Aaron Miter of Maximum Fitness in late 2003 to reach some weight loss and strength training goals. At the time we began our training together I weighed around 210lbs. Aaron was incredibly encouraging and motivating, but he was also very clear on the necessary steps that were needed to achieve our desired goals. He gave great counsel on nutrition and was very knowledgeable and supportive in developing meal plans that were not only effective, but realistic at the same time. His workouts were challenging without being scary or intimidating. Aaron is also really flexible in his approach to find new and creative ways to keep motivation high. He understands that what worked yesterday may need a new approach today. He is always coming up with new activities or exercises in a variety of settings to keep things interesting and desirable. He provides a great sense of encouragement. Over the course of the first 5 months of training with Aaron I lost over 40 lbs and went from a 36″ waist to a 31″ waist. Along with those achievements came a much greater energy level, a more active lifestyle, and an increased level of self motivation. Additionally I had much more confidence about the way I looked and I was able to manage day to day stress much more effectively.
In Spring of 2004 Aaron recommended that I participate in the Mud Run at Camp Pendleton (10K run with obstacle course throughout). Our training now specifically focused on this goal. I finished the 6.2 mile course in just over 1 hour and finished within the top 70 of my age group (40+). It was an incredible sense of accomplishment.
I continue to train with Aaron in 2011 and seek his counsel on a regular basis in order to maintain my progress and stay on track with my fitness. Aaron has developed a number of creative solutions to address key issues such as motivation, time management, and consistency.
I recently started taking his group class The Ultimate Workout. It is a rigorous 1 hour workout in an incredible setting with highly motivated peers. It is both a challenging and rewarding workout that addresses multiple levels of fitness. It is also great fun! I would trust Aaron implicitly with any health and fitness needs or goals.
I can highly recommend Aaron Miter with complete confidence. He has always exceeded my expectations."
Mike & Laurie Madigan
"The two of us have had the pleasure of Aaron's tutelage as a personal trainer and as participants in his Boot Camp program for several years. We are enthusiastic endorsers of both. Aaron is hard working, innovative, upbeat and patient – no matter what your age. We are both in our 60's and Aaron has kept us fit and feeling younger than our years – and done it safely while still maintaining our enthusiasm."
Jeff Lewis & Mike Dodt
"We started Aaron's boot camp a little over 2 years ago because we wanted to find a workout we could do together. Little did we know he would teach us to push ourselves to a completely different level. Aaron has a way of working you out really hard but you never feel like you are being pushed to where you can't go. He continues to change the workout to keep in not only interesting/challenging, but shock the body to keep it working in a different way – thus each of us found that our bodies have changed in positive ways. While one of us has found this as a great weight loss tool, the other has gained more strength than before from other workouts. Both of us have found that clothes fit differently today and in many cases have had to be altered to fit now. We went into this to do something together and in the process, met a lot of great new people that we look forward to seeing each week. Aaron encourages the group to push each other to work harder and have fun while doing it."
Matt Young
"I have been running and going to the gym religiously for well over ten years and really got stalled in my results and actually got a bit bored, but I never did anything to change it up. Since joining Aaron's bootcamp back in October of 2010, I have noticed a depth in my fitness level and an overall feeling of strength that has been lacking as I have gotten older. I have gotten re-motivated to focus on my fitness. Aaron's bootcamp class is always a bit different from the previous class which helps keep you on your toes and always keeps the workout fresh."
Stephen Clark
"Aaron, I want to let you know how much I appreciate your passion, enthusiasm, and support in pushing my limits, setting new goals and being such an integral part in the transition my body is going through. I'm very grateful that I'm in your world and able to reap so many benefits from your energy, your focus and your determination to truly make a difference in ones' physical/mental fitness levels! OMG it works! Who knew!! Thanks again for following your passion and encouraging the best in others!"
Bill & Judy Goldman
"We purchased a series of six classes from Aaron in May 2009 and were extremely pleased with his services. He listened carefully to what Bill's concerns were then thoroughly analyzed his current work-out regime and made excellent suggestions for improving it, especially with respect to avoiding injury to his back and leg muscles, which have been causing him problems, and to improving his posture. He also devised a plan to address those problems by improving his stretching and by strengthening relevant muscles using bands and weights. In addition, he taught us both several exercises with bands and exercise balls that are great for all-around conditioning and strengthening and in addition are very portable as we travel a lot. His instructions were clear and concise, and he was careful to point out correct breathing and form. For future use, he also gave us exercise diagrams with notations on weights and repetitions. He is very good at assessing where an individual is in his/her current exercise regime and in using and building on that.
In addition to being both punctual and dependable, Aaron was very accommodating and adjusted to our irregular schedules. We would highly recommend him as a personal trainer."
Charly Bull Chairman, RECON Environmental
"Although I recognize that it is good for me, I hate exercise. I'd much rather sit on the couch and enjoy a good meal. Given the benefits, however, I am grateful that my wife made me show up and that you were able to put up with my less than enthusiastic participation. As a result of the years I spent with you I have lost 30 pounds, have gotten my doctor to stop telling me to lose weight, and can now ski the longest run at Deer Valley without stopping for a breather. I actually have decided to take the plunge and buy new, smaller clothes. The greatest result of our years together has been the benefit of your supportive friendship."
Judy Walker
"Since working with Aaron for a over a year I have found out what it is to be fit and in shape for the first time in my adult life! I am nearing my 60th birthday and have never felt as good as I do right now. I even look forward to working out and find that I miss it when I do not. Aaron motivates me and has so much confidence in my abilities that I have come believe that I am capable of so much more than I ever thought I was."
Nina S.
"Aaron Miter is the greatest! I have been working with Aaron for two years. When we started, I could barely finish a training session and had trouble walking. One year ago, I had to use a cane to walk. Aaron always worked around my physical limitations (Rheumatoid Arthritis), and constantly researched the best exercises for me. Last week I finished a 5K walk! In addition, I have lost over 30 pounds. All of this would have been impossible without Aaron's training and encouragement."
James Awford
"Aaron has been consistently helping me work toward my goals. Once I hit my 40's, it has become harder and harder to meet my goals, but Aaron helped me work through the plateau that we all face pushing me when I didn't have the motivation, changed up my routine to hit those muscles, and made it fun along the way. My strength and endurance increased dramatically, my body finally transformed in the areas that I couldn't hit, my body fat was reduced, and my fiance enjoyed the results of the hard work. I would recommend Aaron to anyone trying to break through the normal rut of the gym and want that better body! You do your work and Aaron will do his to help you reach your goals!"
Lynn Traylor
"When you workout with Aaron at the Ultimate Workout you are going to have fun getting in shape. It is a challenging workout, so having Aaron there to coach you and keep you going makes all the difference. Aaron's expertise is getting you to work harder than you thought you could and motivating you to do more than you ever imagined. And he does it all with a smile! If you are looking for a way to get in shape, get stronger, faster, and fitter, this is the way to do it. Aaron will help you reach your fitness goals. Since I started working out with Aaron I've lost 17 pounds and 2 sizes and gained strength and endurance. I even run, something I never, ever did before. And an added bonus is that the group that works out with Aaron is fantastic. I'm addicted to the Ultimate Workout!"
Porsche Willenbring
"Since I joined Aaron's Ultimate Workout over a year ago, I have lost a total of 27 pounds and have managed to keep it off. I also play soccer part of the year and the workout has helped me tremendously this season. Not only have I noticed a difference in myself, but my teammates have as well. It has helped me increase my strength, stamina and overall health.
Since The Ultimate Workout helped me with my 2 main goals of losing weight and gaining more overall strength, I decided to set my next goal: a 10K Mud Run. I feel that Aaron's training has provided me with everything I need to survive this tough course both mentally and physically.
The Ultimate Workout is both motivating and very enjoyable. Aaron works you from head to toe. No class is alike and you leave with more energy and alertness than when you start every time."
Gail G.
I first started training with you moved to San Diego in 2001. In 2005 I moved to LA and when I moved  back to San Diego in 2019 I started up my training program again. Then in 2020 our world changed with the pandemic. I was devastated at the prospect of stopping my training especially at a time when my wine intake was exponentially increasing. In order to continue my training Aaron has successfully created a personalized one-on-one program for me using zoom. It has been fabulous and I highly recommend it for those of you who either share my lack of discipline to work out or really appreciate a personalized program. Since that time I have lost 15 pounds and feel great! Online personal training really does work!
Bruce J.
I can't speak strongly enough for Aaron. I started with him right after my quadruple bypass surgery in 2004. I'm still here and in much better general health today than I was at that time. I give the credit to Aaron! His goal is to work with you, customizing the training program for what YOU need, not to make you look like him (I wish!). The past few months we have continued our sessions but now Online with Zoom. Believe it or not, online personal training works great!
Jim G.
I had to be in great shape for my recent trek in Nepal to Everest Base Camp. I knew that Aaron was just the guy to help me. With his broad expertise and knowledge, he devised a thorough and effective program for my training. Aaron was always a pleasure to work with, knowing just how to keep me motivated and progressing. The results I got with Aaron's invaluable training assistance? I made it to Mt. Everest!